02.06.2021
Historic Court Decision in Favour of Climate Protection!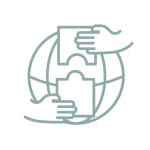 For the first time, a multinational corporation has been legally required to act in accordance with the Paris Agreement. This means that companies will now have to shape their business practices in a way that ensures that – despite their greenhouse gas emissions – global climate change does not exceed 2 °C.
This Court Order could become a model for further large corporations beyond the energy sector. Last week in Den Haag, Shell – Europe's largest oil corporation – was ordered to reduce its CO2-Emissions by 45 % (in comparison to 2019) until the year 2030. Its current corporate goals were deemed insufficient in this regard.